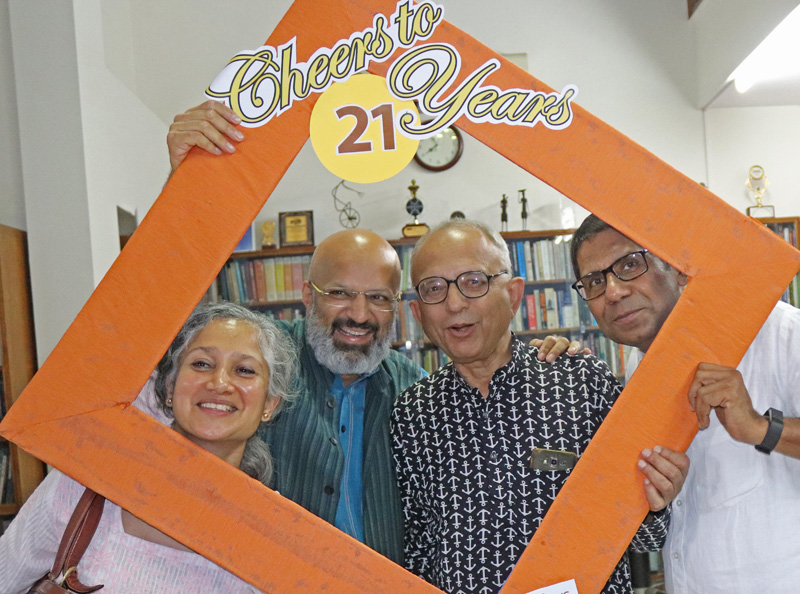 We turned 21!
On this August 15th, we completed 21 years of advancing social change through policy! In these past years, we have been able to successfully reform policy, influence public debates, and build a cadre of young leaders committed to better governance in and for India. To mark our 21st anniversary, we celebrated with our friends and supporters. We also mapped our 21 year journey through 21 of our most impactful projects on social media, reaching out to over 14,000 people.
Launch of the EduDoc Film and Policy Fellowship
This August, we launched the first edition of our EduDoc Film and Policy Fellowship, a unique mentorship based documentary-making fellowship program for education and film enthusiasts. Introduced as a part of the fourth edition of Edudoc, our international short film competition, the fellowship has been initiated with a cohort of 62 fellows from 9 countries. We hosted two webinars to commence the program, steered by Dr. Amit Chandra, Independent Consultant,The National Independent Schools Alliance (NISA), and Mr Debjeet Kundu, maker of 'Truancy' a 2017 Edudoc winner.

Parliamentary Panel Calls for a 'Realistic' Plan for Recognition of Schools
Recently a parliamentary panel recommended that the Ministry of Human Resource Development (MHRD) make 'realistic' plans for recognition of private schools in order to ensure that school closures do not deprive children of education, undermining the purpose of the RTE. The recommendation remains relevant given the enduring threat of closure facing schools across the country since 2015, over 4000 schools have been closed, and over 14,000 more face the threat of closure.
The National Independent Schools Alliance (NISA) organised a press-conference in Chandigarh on 28th July to announce its partnership with Desh Apnayen Sahyog Foundation. NISA and Desh Apnayen have collaborated to impart civics and citizenship education to NISA schools in the state of Haryana. The partnership was covered in various local media platforms like Dainik Savera, The Pioneer, Punjab Kesari, Punjab Times among others.

Centre for Civil Society (CCS) has undertaken extensive research and advocacy to prevent arbitrary fee regulations across various states in India. The Times of India has cited CCS' research to highlight discrepancies in fee regulation policies across seven states. Read the full article here.

India Education Diary reports on the problem of Uttar Pradesh Government's fixed Per Pupil Expenditure which has not been revised in the last 7 years. The National Independent Schools Alliance (NISA) has filed a writ petition in Supreme Court of India seeking clarity on the same. To know more read the following article published in the India Education Diary.


Writing for the Deccan Herald, Nidhi Gupta highlights the the importance and impact of public policy. The article highlights the ìpolicy "CCS' flagship 3-day certificate course in public policy- and its impact in introducing young minds to the principles of sound policy making. Read the article here.

See other media stories here

CCS offers challenging opportunities to work in a unique, high-energy and vibrant work environment. Find your fit, and join our growing team.

Current Openings:

Find more positions here

India's first Liberal Hindi Portal
Archives
2018
2017
2016
2015
2014
2013