DEADLINE APPROACHING FAST: APPLY NOW TO ATTEND OUR 3 DAY COURSE ON PUBLIC POLICY IN MUMBAI/NEW DELHI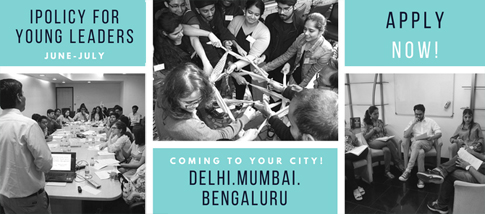 ìpolicy for Young Leaders is our signature certificate course on public policy, aimed at introducing the participants to the policy landscape in India; and to explore perspectives on and issues related to, public policy; and the institutional framework of our nation.
Accepted candidates will be inducted into a 3-day intensive program, with workshops and academic activities, which will provide them with the required tools and knowledge to assess government policies through different perspectives. The candidates will be provided with a certificate at the end of this program and also be inducted into our vast global alumni and academic network.
NEW DELHI
14-16 July 2017
Application Deadline: 26 June 2017
MUMBAI
28-30 July 2017
Application Deadline: 26 June 2017
All selected candidates will be informed before 30 June.
KNOW MORE
MEET THE INTERNS: First day of internship for our Researching Reality (Delhi) Interns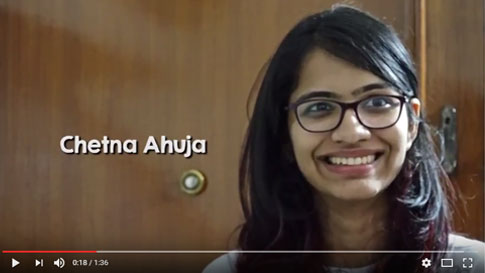 We kicked off the 17th edition of Researching Reality Internship on 1 June 2017. Over the course of the next two months, our team of super interns will analyse and evaluate Government-to-citizen services, working towards creating a report on the ease of public service delivery.
You can follow the epic journey of our interns on our Facebook page: www.fb.com/ccsindia and through our Instagram handle: @ccsindia
Applications open for the 1st edition of our Researching Reality Internship in Bangalore: 10 seats only!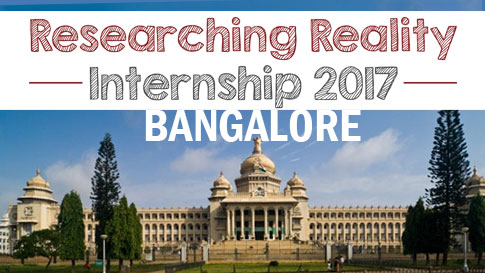 Researching Reality Internship' is a 6 week long intensive program focused on exploring the theory and practice of existing policy directives in an urban context. The internship is ideal for applicants who wish to apply social and economic principles to current policy issues through in-depth investigation and analysis. It provides training in areas of quantitative and qualitative research, methodology, data analysis, and critical thinking.
After having successfully conducted the internship program in Delhi for over 17 years, we are starting the first edition of this program in Bangalore. Running from 3 July to 11 August, the Bangalore edition of Researching Reality Internship will focus on the ease of delivery of Government-to-citizen services in Karnataka.
Internship dates: 3 July 2017 - 11 August 2017
Number of open positions: 10
APPLICATION DEADLINE: 21 JULY 2017
Since we have only 10 positions open, the applicants will be accepted on a rolling basis. Interested participants are strongly requested not to wait till the deadline to apply.
CALLING ALL ALUMNI! APPLY NOW TO ATTEND THE COLLOQUIUM ON LIBERALISM IN INDIA
CCS Colloquium is a two-day residential forum, exclusively for our alumni, to facilitate in-depth discussion on contemporary issues facing our nation today. At this colloquium, we will explore the state of Liberalism in India and the challenges that liberals face within our nation. We will also draw from readings of Indian liberal thinkers from the past, to understand the current problems as well as get historical perspective, and create a holistic dialogue on the way forward for a freer, more liberal India.
The Colloquium provides participants an opportunity to disentangle themselves from the distractions of everyday life to reflect on issues of fundamental and enduring importance. Participants at the Colloquium explore a specified theme together by discussing texts they have read in advance. Their shared inquiry is guided by a discussion leader.
Theme: Liberalism in India
Date: 19-20 August 2017
For more information about eligibility for the program, log on to the Academy alumni portal and then click on EVENTS.
HEAD'S UP: EDUDOC 2017 IS COMING!
EduDoc is an International Short Film Competition organised annually by Centre for Civil Society (CCS) where we want to put in the spotlight. Edudoc 2017 is about to begin, and we will be opening our applications soon!