Are you a Journalist? Apply now to attend our Three-Day Course in Public Policy

"ipolicy for Journalists" is a specialized program designed for journalists, aimed at introducing the participants to the policy landscape in India; and to explore the issues, perspectives and models of institutions, within the economic framework of our nation.
COURSE OBJECTIVES
To equip participants with analytical tools to evaluate the real life impact of policy initiatives implemented by the Govt; so as to better distinguish between objective facts and subjective opinions.
To offer unconventional angles and story ideas, information sources, and expert perspectives.
16 – 18 DECEmber 2016 | Tiger Heaven, Sariska, rajasthan
Deadline for Applications: 8 December 2016
registrations closing in
2 days

for
School Choice National Conference 2016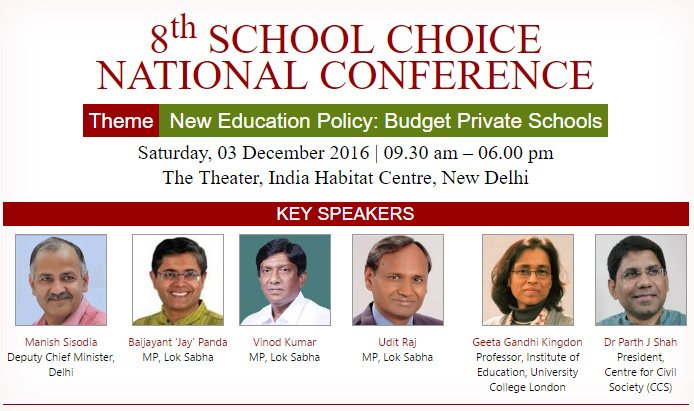 The School Choice National Conference (SCNC) is Centre for Civil Society's flagship conference on education which brings together edupreneurs, education planners, school officials and Government officers, to discuss and deliberate on the future of education in India. The 8th edition of this conference, being organized in the backdrop of the ongoing debates and discussions surrounding the state of education in India, will focus on the 'New Education Policy' being mooted by the MHRD and the issues faced by Budget Private Schools across the nation.
The speakers include Baijayant 'Jay' Panda (MP), Geeta Gandhi Kingdon (Professor- UCL), Manish Sisodia (Dy CM/Education Minsiter-Delhi), Udit Raj (MP) and Vinod Kumar (MP).

Contact Nitesh at scnc@ccs.in | +91-88003 44700 | +91-11-2653 7456
Registration Deadline: 01 December 2016
Are you an Entrepreneur?
Tell us Your Experience of Starting Up a Business in India
Centre for Civil Society, is crowd-sourcing entrepreneurial issues to introduce and streamline reforms to promote the Ease of Doing Business In India. Did you have trouble starting a business, registering property, getting credit & paying taxes, dealing with construction permits, getting electricity, protecting minority investors, trading across borders, enforcing contracts and resolving insolvency?