DEADLINE APPROACHING FAST: APPLY NOW TO ATTEND OUR 3 DAY COURSE ON PUBLIC POLICY IN BANGALORE/MUMBAI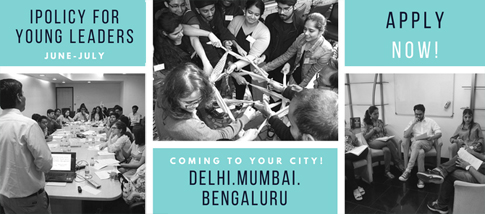 ìpolicy for young leaders is our signature certificate course on public policy, aimed at introducing the participants to the policy landscape in India; and to explore perspectives on and issues related to, public policy; and the institutional framework of our nation.
Accepted candidates will be inducted into a 3-day intensive program, with workshops and academic activities, which will provide them with the required tools and knowledge to assess government policies through different perspectives. The candidates will be provided with a certificate at the end of this program and also be inducted into our vast global alumni and academic network.
MUMBAI
30 June-2 July 2017
Application Deadline: 6 June 2017
BENGALURU
23-25 June 2017
Application Deadline: 28 May 2017
All selected candidates will be informed before 10 June.
KNOW MORE
ARE YOU A JOURNALIST? APPLY NOW TO ATTEND OUR THREE-DAY COURSE IN PUBLIC POLICY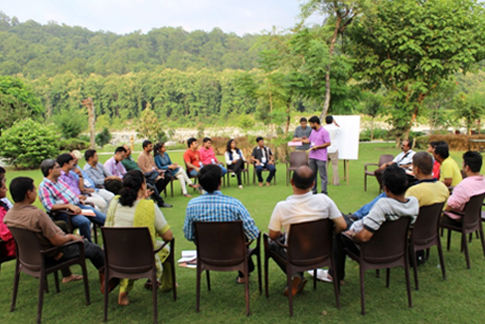 ipolicy for Journalists is a specialised program designed for journalists, aimed at introducing the participants to the policy landscape in India; and to the role of media in policy formulation and reform.
COURSE OBJECTIVES
To equip participants with analytical tools to evaluate the real life impact of policy initiatives implemented by the Govt; so as to better distinguish between objective facts and subjective opinions. The course also aims to offer unconventional angles to stories, information sources and expert perspectives to journalists participating in the program.
Date: 16-18 June 2017
CALLING ALL ALUMNI! APPLY NOW TO ATTEND THE COLLOQUIUM ON LIBERALISM IN INDIA
CCS Colloquium is a two-day residential forum, exclusively for our alumni, to facilitate in-depth discussion on contemporary issues facing our nation today. At this colloquium, we will explore the state of Liberalism in India and the challenges that liberals face within our nation. We will also draw from readings of Indian liberal thinkers from the past, to understand the current problems as well as get historical perspective, and create a holistic dialogue on the way forward for a freer, more liberal India.
The Colloquium provides participants an opportunity to disentangle themselves from the distractions of everyday life to reflect on issues of fundamental and enduring importance. Participants at the Colloquium explore a specified theme together by discussing texts they have read in advance. Their shared inquiry is guided by a discussion leader.
Theme: Liberalism in India
Date: 19-20 August 2017
For more information about eligibility for the program, log on to the Academy alumni portal (if you haven't yet, create an account HERE: ccsacademy.in/alumni) and then click on EVENTS.
HEAD'S UP: EDUDOC 2017 IS COMING!
EduDoc is an International Short Film Competition organised annually by Centre for Civil Society (CCS) where we want to put in the spotlight. Edudoc 2017 is about to begin, and we will be opening our applications soon!
THE UNSEEN ECONOMICS OF JAN DHAN YOJANA
One of the flagship projects of PM Modi is Jan Dhan Yojana (JDY). Introduced on 28th August, 2014, it is a national scheme for financial inclusion to ensure easy, speedy and affordable access to finance, banking services, credit, pension and insurance. The seen side of this scheme is good as it facilitates people of all caste and class to open a bank account with public bank or private bank, with zero amount as a minimum balance, followed by a free insurance cover up to Rs. 1 lakh and overdraft facility for Rs. 5,000.
But what are the unseen costs and issues behind this seemingly successful scheme by the government? Is it the business of the 'minimum' government to determine the balance amount of opening the bank account? In this article, Jaimine Vaishnav explores the successes and failures of the Jan Dhan Yojana, while emphasising that the drive towards financial inclusion shouldn't be at the cost of everything else.