You are here
Conferences
Launch of Street Vendors Act Compliance (SVAC) Index 2017
Event Date: 12 Apr 2017; Time: 3 pm - 5 pm
Venue: Constitution Club of India, New Delhi
Due to a lack of clarity in the judicial decisions, in 2009, the Street Vendors Policy 2004 was revised as the 'National Policy on Urban Street Vendors 2009'. The revised policy was not legally binding and made little progress on the matter of street vendors. In 2010, the Supreme Court directed the government to enact a law regulating street vending and thus, the Street Vendors Bill 2012 was drafted. The Bill was passed in both houses by February 2014 and became the Street Vendors (Protection of Livelihood and Regulation of Street Vending) Act, 2014. This Act was drafted with the legislative intent of protecting the livelihood rights of street vendors as well as regulating street vending through demarcation of vending zones, conditions for and restrictions on street vending. The Act now governs over all matters in regards to the rights and duties of the street vendors in India. It also provides for confiscation of goods that are being sold by street vendors to be cataloged properly.
It is in this context that Centre for Civil Society – a Delhi-based think tank decided to take up a study of the implementation of 2014 Act across India and come up with a matrix and an index to rank states. We filed applications under the Right to Information Act, 2005 across India, made more than 250 phone calls to expedite the RTI reply process, compiled court judgments and referred to other secondary sources such as news stories.
For more information, contact Nitesh at +91-88003 44700 | nitesh@ccs.in
8th School Choice National Conference
Event Date: 03 Dec 2016; Time: 09:30AM-06:00PM
Venue: The Theatre, India Habitat Centre
THEME: New Education Policy and Budget Private Schools
Registration deadline: 27th November 2016
Objectives
Bring together educationists, planners, policy experts, activists and government officials to discuss and debate various dimensions of education policy for Budget Private Schools in India.
Showcase cost effective innovative models that foster an enabling education ecosystem.
The 2016 edition of conference will have 3 thematic sessions:
Regulatory Challenges: The session aims to highlight regulatory system within which Budget Private Schools exist, identify areas of conflict and suggest for a regulatory system to match its eco-system.
Research Evidence: The session aims to bring evidence on quality of learning and cost effectiveness in Budget Private Schools. It also aims to identify various aspects of Budget Private Schools which lacks credible evidence.
Innovation in Classroom: This session aims to highlight innovation and development with regard to teacher training, leadership building, classroom management and integration of technology etc.
Registration Open: Apply Now
Registration Fee
NGO Leaders / Research Scholars / School Principals: INR 1000/-
Students: INR 750/-
Others: INR 1500/-
For details contact Nitesh (scnc@ccs.in | +91-88003 44700 | +91-11-2653 7456)
Conference and Book Launch: Liberalism in India: Past, Present and Future
Event Date: 20 Nov 2016; Time: 10 am - 8 pm
Venue: The Claridges, New Delhi
SV Raju was one of India's liberal giants, and his passing last year was a huge loss for the liberty movement in India. To honour his memory, and celebrate his commitment to creating a freer India, Centre for Civil Society, in partnership with the Friedrich Naumann Foundation, have compiled a set of original papers from key liberal voices in India, on the past, present and future of Indian Liberalism. The papers have been published in the form of a Festschrift, on the theme Liberalism in India—highlighting the evolution of the ideas in our country, an analysis of the current context and the way forward.
We are hosting a day-long conference where authors will share their research papers, followed by an evening dinner launch of the publication. Contributing authors for this volume are Atanu Dey, Laveesh Bhandari, Barun Mitra, Surjit Bhalla, J P Narayan, Jaithirth Rao, Nirvikar Singh, R Jagannathan, Ashok Desai, Nitin Pai, Parth J Shah, Gurcharan Das, Hindol Sengupta, Seetha Parthasarathy and Lord Alderdice.
Attendance at the conference is by invitation only.
Click here for the schedule and program flow. For more information click here or contact Manasi Bose (programs@ccs.in | +91 9810772964).
Asia Liberty Forum 2016
Event Date: 18 Feb To 20 Feb 2016; Time: 5:00 p.m. - 11:45 p.m.
Venue: Kuala Lumpur, Malaysia
The Asia Liberty Forum brings together friends of the freedom movement across Asia to discuss challenges facing the region and to learn from one another how to most effectively advance free-market reforms.
You will learn from distinguished speakers and participate in interactive sessions to strengthen civil society efforts to move public policy in the direction of greater freedom. At the closing dinner of the Asia Liberty Forum, Atlas Network will announce the winners of its Regional Liberty Awards (Apply Here), which celebrate the most successful projects by Atlas Network partners.
Other highlights include:
Speed Networking, designed to help attendees expand their contacts
Elevator Pitch Competition, where participants will present their 60-second pitch with the chance to win a prize
Training workshops to hone your skills in marketing, social media, and entrepreneurship
Documentary Screening of India Awakes
To register for Asia Liberty Forum click here.
School Choice National Conference 2015
Event Date: 19 Dec 2015; Time: 09:00am-06:00pm
Venue: India Habitat Centre
To read the event report click here.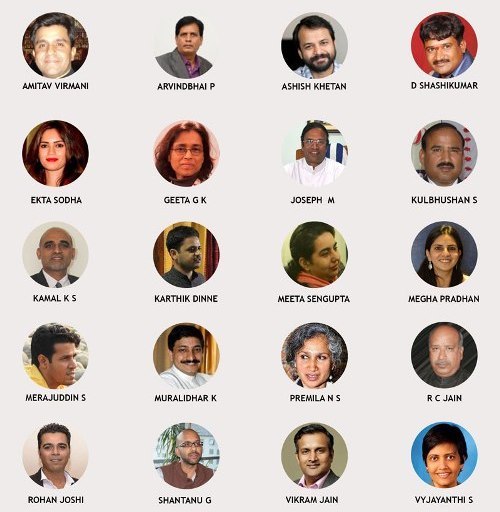 Ensuring quality education to all is the key to take India into league of superpower. Improving status of education is further more important to the entire world as every sixth human on planet earth happens to be from India. Ministry of Human Resource and Development (MHRD), Government of India is working on developing New Education Policy (NEP). The last NEP was brought out in 1986 and later amended in 1992. MHRD aims to make India a knowledge superpower by equipping our students with the necessary skills and knowledge to eliminate the shortage of manpower. The objective of the upcoming NEP therefore is to meet the changing needs of quality education, innovation and research. In this context, the 2015 School Choice National Conference will be dedicated to debating and merits and proposing improvements to the New Education Policy.
The School Choice is an initiative of Centre for Civil Society to advocate element of competition in education space through policy reform. The goal of the School Choice is to create an environment where every child has the Right to Education of Choice. School Choice National Conference (SCNC) is an annual event that provides a much needed platform to identify critical issues in the education sector, review existing programs, and explore strategies to face the challenges ahead and ideate on ingenious solutions to provide quality education to all children in India. The objectives of SCNC are two-fold:
Bring together educationists, planners, policy experts, activists and government officials to discuss and debate various dimensions of education policy in India.
Showcase innovative models that foster an enabling education ecosystem.
Various studies and reports present struggling state of education in country. Drafting national level education policy is an exercise that takes place once in two to three decades and would decide the future of educational landscape in country. In this context the theme of this year SCNC will be New Education Policy. The conference will focus on areas of policy reform that need to be streamlined towards achieving choice for students and parents, autonomy for schools and teachers, and accountability of the system.
To know more or register click here.